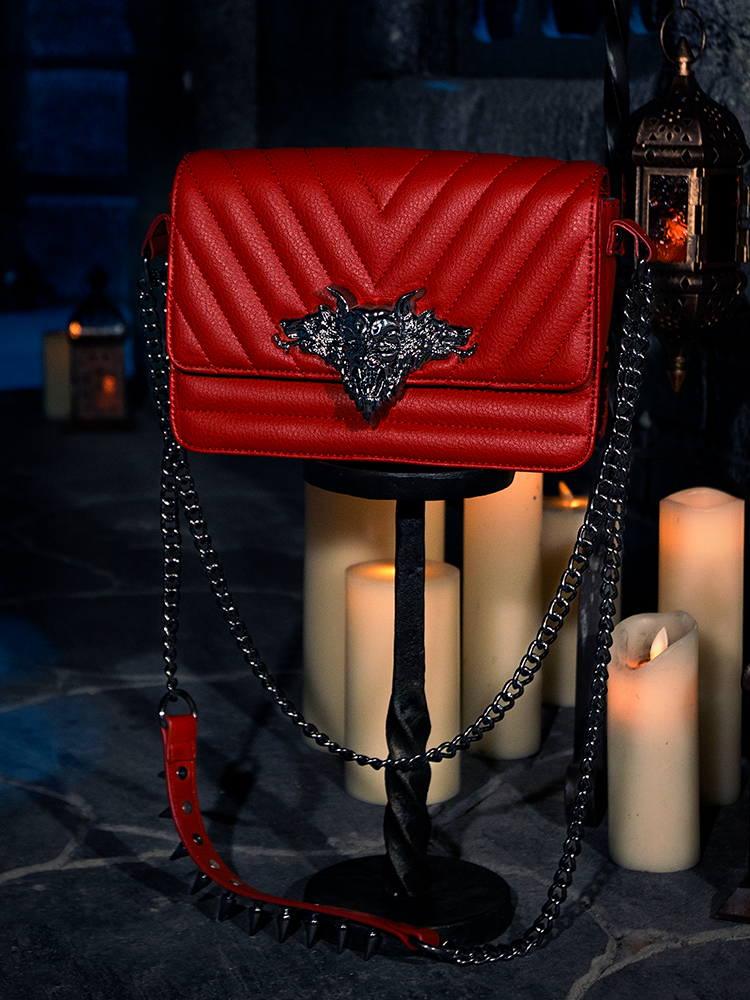 BRAM STOKER'S DRACULA Gargoyle Sculpture Quilted Crossbody Bag in Blood Red
BRAM STOKER'S DRACULA Gargoyle Sculpture Quilted Crossbody Bag in Blood Red
$125.00
Gothic Glamour Clothing
"

Listen to them, the children of the night. What sweet music they make..."
This exquisite bag is sure to be a conversational piece in its inherent lore. The ominous DRACULA sculpture relief is the highlight of this intricately designed quilted hard-shelled cross-body bag. The monstrous gargoyle is flanked on either side by bloodthirsty wolves. A symbol that appears throughout the film as a plot foreshadowing of what Dracula really is. This sculpted piece is plated in a shiny gunmetal tone and spikes adorn the shoulder rest of the double chain strap. This bag is finished in blood red textured quilted vegan leather. It has a magnet closure on the flap and the inner bag has two separate compartments with a middle zip compartment.
Measurements:

Handle Drop: 14"(35.5 cm), Chain extends to: 26"(66 cm) 
L=9"(23 cm), H=6"(15 cm) D= 2.25"(5.5 cm)

Fabric Content: 

Designed by Lynh Haaga and Micheline Pitt and made in China.
Photos by: Susie Q

PRE ORDERS - We only ship complete orders. At this time we cannot split pre-orders due to our extensive pre-order storage system. If your order has in-stock and pre-ordered items, we will pull your in-stock item(s) and hold on to your order until it is fully complete and then ship it. Each pre-order item has an estimated shipping time frame listed. THIS IS ONLY AN ESTIMATE. We do everything in our power to deliver within that estimated window. However, because of unforeseen global shipping delays and material shortages due to the pandemic which is still affecting manufacturing, these items can still be delayed. We suggest purchasing in-stock and pre-order items separately to help mitigate your wait time for items.