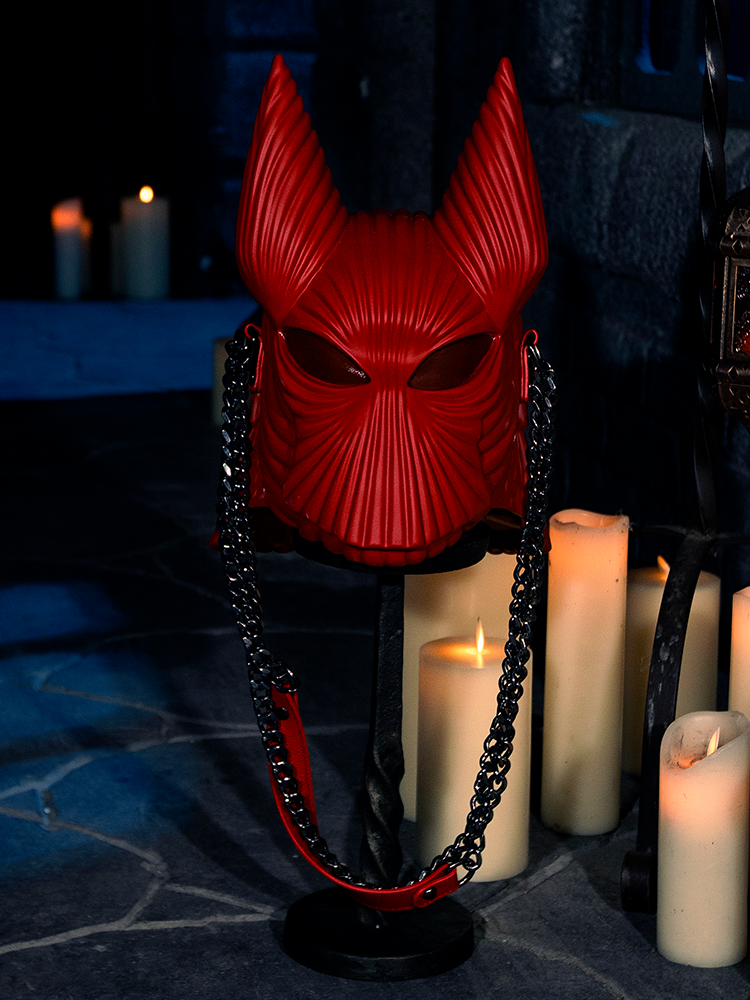 PRE-ORDER * - BRAM STOKER'S DRACULA Order of the Dragon Helmet Bag in Blood Red
BRAM STOKER'S DRACULA Order of the Dragon Helmet Bag in Sanguine Red | Goth Glamour
$128.00
Gothic Style Clothing
SOLD OUT FIRST RUN ESTIMATED ARRIVAL END NOVEMBER

* 2ND RUN ESTIMATED ARRIVAL END DECEMBER
"I shall rise from my own death, to avenge hers with all the powers of darkness..."
The stylings in BRAM STOKER'S DRACULA were loaded with symbolism and foreshadowing. Vlad belonged to the Order of the Dracul (Knight of the Sacred Order of the Dragon). His helmet and suit were meant to intimidate his enemies. The helmet resembled the head of Anubis, or a wolf hinting at what Vlad will transform into later.

We have taken the striking helmet design from the film and lovingly researched and recreated a screen-accurate 3D model of it as a bag worthy of showcasing. Made in sturdy sanguine red PVC this bag features the frightening musculature design of the original. We've developed this alongside a family-owned and operated toy factory to ensure a high standard of quality.
Gunmetal zipper has double zipper pulls, the strap is thick chained gunmetal and PU leather that adjusts from a shorter strap to hold at the crook of your elbow or extended for shoulder length.
Measurements:
Handle Drop at longest strap extension: 21.5" (54.5 cm)
Handle drop when the strap is doubled: 11.75" (30 cm)
Height from ear to base: 11.5" (29 cm)
Height from top of head to base: 7" (18 cm)
Circumference at center: 22" (56 cm)
Zipper opening length: 12.25" (31 cm)
Fabric Content:
Lining: 100% polyester.
Designed by Lynh Haaga and Micheline Pitt and made in China.
Photos by: Susie Q
PRE ORDERS - We only ship complete orders. At this time we cannot split pre-orders due to our extensive pre-order storage system. If your order has in-stock and pre-ordered items, we will pull your in-stock item(s) and hold on to your order until it is fully complete and then ship it. Each pre-order item has an estimated shipping time frame listed. THIS IS ONLY AN ESTIMATE. We do everything in our power to deliver within that estimated window. However, because of unforeseen global shipping delays and material shortages due to the pandemic which is still affecting manufacturing, these items can still be delayed. We suggest purchasing in-stock and pre-order items separately to help mitigate your wait time for items.