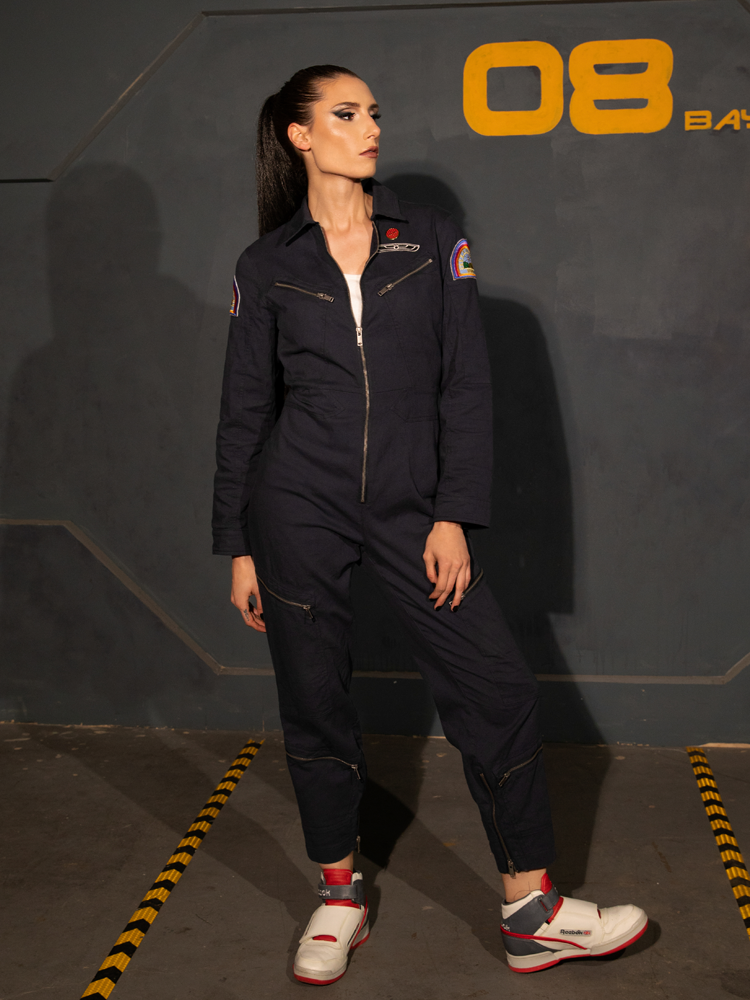 FINAL SALE - ALIEN Ripley Flight Suit in Navy
ALIEN Ripley Flight Suit in Navy | Goth Glamour Clothing
Sold Out
Goth Style Clothing
Official Alien Collection just got even cooler with Ripley's iconic flight suit. Gunmetal zippers at center front, chest, thigh, and calf for added functionality. Nostromo patches sewn to the sleeves along with a Nostromo wing patch on the left chest, and enamel pin. The back waist detail is from the actual vintage flight suits of the late 60s and has a vegan leather lace-up with a cord that can be adjusted to tighten or loosen. 100% Cotton gently stonewashed for softened mission-ready styling. Unlined. Imported. 
Designed by Lynh Haaga and Micheline Pitt and handmade in China. 
Photos by: Susie Q
Model info: KJ is 5'10" and is wearing a size small.

Fit Advice: True to size as a relaxed fit. Order down if you want a more fitted look. The girth from the front neck hollow to the center back neck is relaxed and not intended to be tight. Rise sits 1 1/2" below inseam.

This item is NOT available globally for shipping and only includes shipping to the following countries: United States, Canada, Mexico, Puerto Rico, United Kingdoms, Australia, New Zealand, Austria, Belgium, Bulgaria, Croatia, Denmark, Estonia, Finland, France, Germany, Greece, Hungary, Ireland, Italy, Netherlands, Poland, Portugal, Romania, Spain, Sweden, Singapore, Japan, Hong Kong, Argentina, Brazil