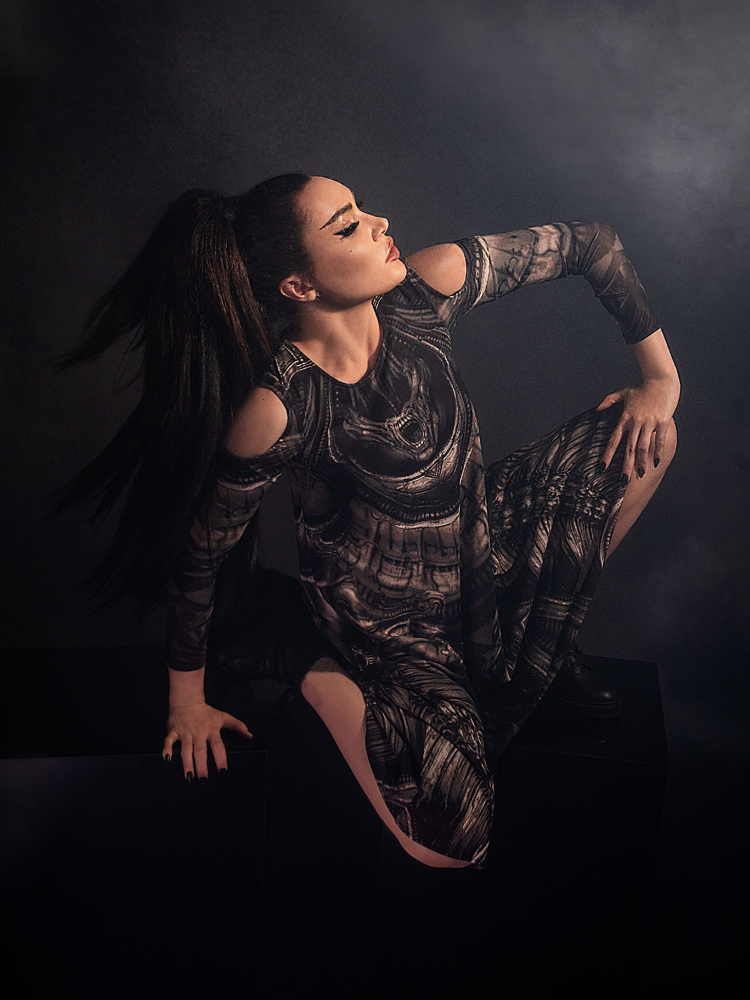 FINAL SALE - Alien™ Xenomorph Trapeze Dress
Alien™ Xenomorph Trapeze Dress | Goth Style Clothing
$79.00 $158.00
Goth Dresses
NON-DAMAGED
A unique gothic style piece with a streetwear-inspired twist.  Our spine-chilling trapeze dress showcases an intricate Xenomorph print, with a cold shoulder design, fitted long sleeves, and a higher neckline.  This dress features a fit and flare silhouette with a sweeping, flowy hem. It's lined in a soft poly/spandex Ponte blend that provides comfortable wear. The thicker triple mesh overlay is engineered with a complex Xenomorph pattern, exclusively designed for our Alien ™ Collection.

Shell is 92% polyester 8% spandex, lining is 96% polyester 4% spandex.

Made in the USA of imported material.
Designed in Hollywood, California.
Photography: Susie Q

Model: Micheline is 5'9 and is wearing a size Small. Jyoti Kaur is 5'8 and is wearing a size XL. Braxton Holme is 6' and is wearing a size XL. Order down if you want a tighter look.
This item is NOT available globally for shipping and only includes shipping to the following countries: United States, Canada, Mexico, Puerto Rico, United Kingdoms, Australia, New Zealand, Austria, Belgium, Bulgaria, Croatia, Denmark, Estonia, Finland, France, Germany, Greece, Hungary, Ireland, Italy, Netherlands, Poland, Portugal, Romania, Spain, Sweden.