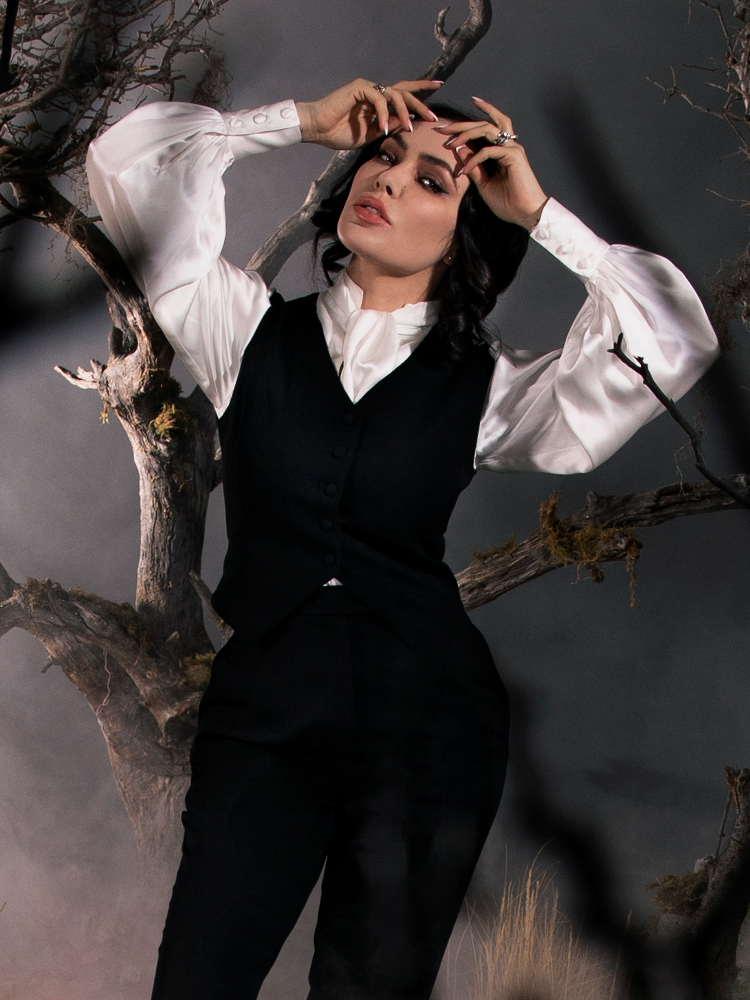 Sleepy Hollow™ Ichabod Vest in Black
Sleepy Hollow™ Ichabod Vest in Black | Gothic Inspired Tops
$68.00
Gothic Glamour Clothing
La Femme en Noir and Paramount have collaborated to bring you these beautifully haunting pieces inspired by the iconic costumes and the beautiful world of Sleepy Hollow™.
The Ichabod ensemble features a tailored vest to complete the look. Featuring covered buttons, a buckle in back for waist adjustment, and is fully lined with stretch charmeuse. Material is a woven stretch 60% polyester, 35% rayon, 5% spandex.
Imported. Made in China.
Photography: Susie Q
Model: Micheline is 5'9" and is wearing a size Small.
Fit advice: Vest is tailored, order based off of your largest measurement, fabric has no stretch and only organic give. If you have additional fit questions, please email customer service at cs.lafemmeennoir@gmail.com.
XS:
Bust: 33.5"-34.5" (85-87.5 cm)
Waist: 24.5"-26" (62-66 cm)
Center Back Length: 17.75" (45 cm)
Front Neck Drop: 7.5" (19 cm)
S:
Bust: 35.5"-37.5" (90-95 cm)
Waist: 26.5"-28.5" (67-72 cm)
Center Back Length: 17.75" (45 cm) 
Front Neck Drop: 7.5" (19 cm)
M:
Bust: 37.5"-39.5" (95-100 cm)
Waist: 29"-31" (73.5-78.5 cm)
Center Back Length: 18" (45.5 cm)
Front Neck Drop: 7.6" (19 cm) 
L:
Bust: 40"-42" (101.5-106.5 cm)
Waist: 31"-33" (79-84 cm)
Center Back Length: 18.25" (46 cm) 
Front Neck Drop: 7.75" (19.5 cm)
XL:
Bust: 43"-45" (109-114 cm)
Waist: 34"-36" (86-91.5 cm)
Center Back Length: 18.5" (47 cm)
Front Neck Drop: 7.75" (19.5 cm)
2X:
Bust: 46"-48" (117-122 cm)
Waist: 37"-39" (94-99 cm) 
Center Back Length: 18.75" (47.5 cm)
Front Neck Drop: 8" (20 cm)
3X:
Bust: 49.5"-51.5" (126-131 cm)
Waist: 40"-42" (101.5-106.5 cm)
Center Back Length: 19" (48 cm) 
Front Neck Drop: 8.125" (20.5 cm)
4X:
Bust: 53.5"-55.5" (136-141 cm)
Waist: 43"-45" (109-114 cm)
Center Back Length: 19" (48 cm)
Front Neck Drop: 8.125" (20.5 cm)