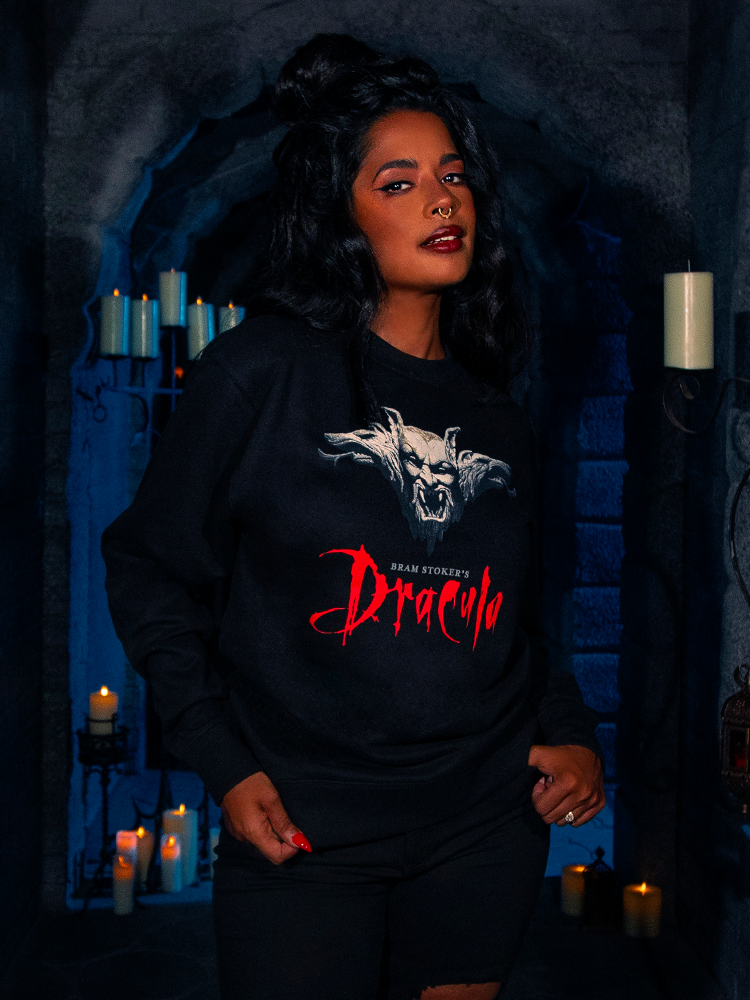 PRE-ORDER - BRAM STOKER'S DRACULA Gargoyle Sculpture Sweatshirt in Black (unisex)
BRAM STOKER'S DRACULA Gargoyle Sculpture Sweatshirt in Black (Unisex)
$54.00
Gothic Style Clothing
ESTIMATED ARRIVAL SEPTEMBER/OCTOBER
"
I am the monster that breathing men would kill. I am Dracula."
This premium unisex sweatshirt is the perfect piece to snuggle up in to watch everyone's favorite gothic horror romance. The surface of the main graphic has additional embossing to give it a more dimensional surface with the film's logo printed below in bright blood red lettering. 1 x 1 ribbed collar, cuffs, and waistband.

Fabric Content:
80% Cotton
20% Polyester
Designed by Lynh Haaga and Micheline Pitt and screen printed in Los Angeles of imported goods.
Photos by: Susie Q
Model info: Divya is wearing a small. Chad is wearing a 2xl.
Fitting Advice: Unisex standard fit. Order down if you would like a more fitted look.
PRE ORDERS - We only ship complete orders. At this time we cannot split pre-orders due to our extensive pre-order storage system. If your order has in-stock and pre-ordered items, we will pull your in-stock item(s) and hold on to your order until it is fully complete and then ship it. Each pre-order item has an estimated shipping time frame listed. THIS IS ONLY AN ESTIMATE. We do everything in our power to deliver within that estimated window. However, because of unforeseen global shipping delays and material shortages due to the pandemic which is still affecting manufacturing, these items can still be delayed. We suggest purchasing in-stock and pre-order items separately to help mitigate your wait time for items.