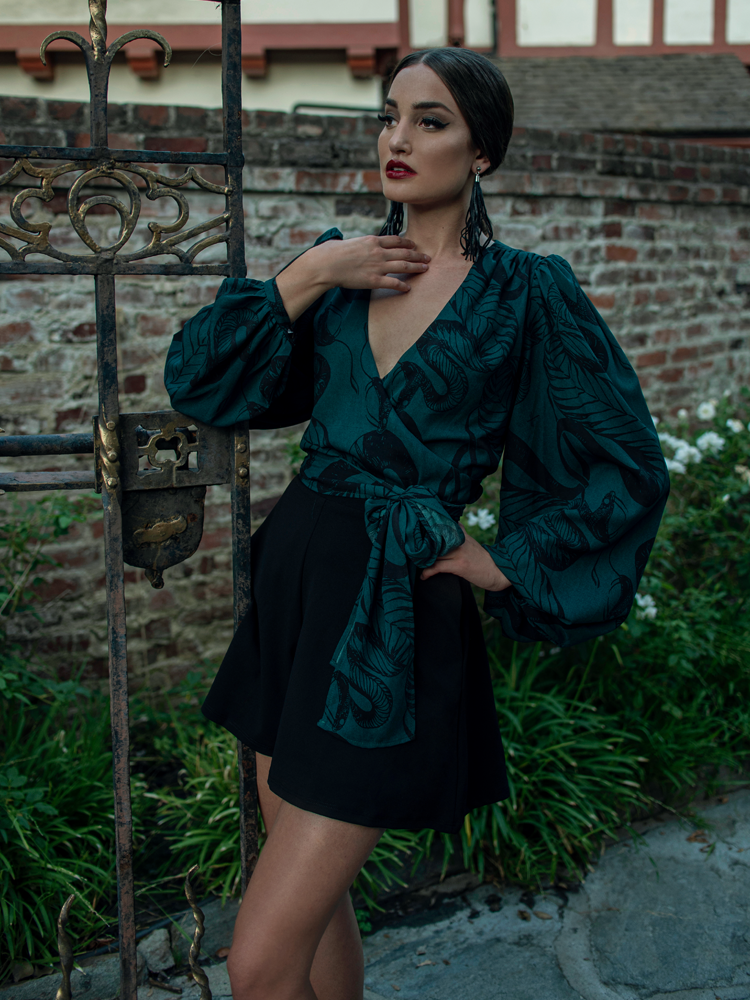 Georgette Wrap Top in Serpentine Print by Natalie Hall
Georgette Wrap Blouse in Serpentine Print by Natalie Hall | Goth Tops
Sold Out
Goth Style Clothing
Inspired by iconic 1930's bishop blouses, this extremely decadent wrap top will make a bold statement. Showcasing original artwork by famed artist Natalie Hall (Shape of Water), this blouse comes with a removable sash to cinch your waist. Featuring dramatic gathered and cuffed sleeves, a side tie, covered buttons and is fully lined for optimal coverage. Tuck in our wear out for two distinctive looks. Perfect to pair with our Metropolis suit jacket.
Made in Hollywood, CA.
Photography: Lars Kommienezuspadt
Model: Aliza is 5'9" and wearing a size Small.
Fit advice: Designed with a relaxed fit, size down if you want a more fitted look. If you have additional fit questions, please email customer service at cs.lafemmeennoir@gmail.com.
Bust: 33.5"-34.5" (85-87.5 cm)
Center back length from top neck to bottom of hem: 25" (63.5 cm)
Bust: 35.5"-37.5" (90-95 cm)
CB Length from top neck to bottom of hem: 25.5" (64.5 cm)
Bust: 37.5"-39.5" (95-100 cm)
CB Length from top neck to bottom of hem: 26" (68 cm)
Bust: 39.5"-40.5" (100-103 cm)
CB Length from top neck to bottom of hem: 26.5" (67 cm)
Bust: 42.5"-44.5" (108-113 cm)
CB Length from top neck to bottom of hem: 27" (68.5 cm)
Bust: 45.5"-47.5" (115.5-121 cm)
CB Length from top neck to bottom of hem: 27.5" (70 cm)
Bust: 49"-51.5" (124.5-131 cm)
CB Length from top neck to bottom of hem: 28" (71 cm)
Bust: 53"-55" (135-140 cm)
CB Length from top neck to bottom of hem: 28" (71 cm)