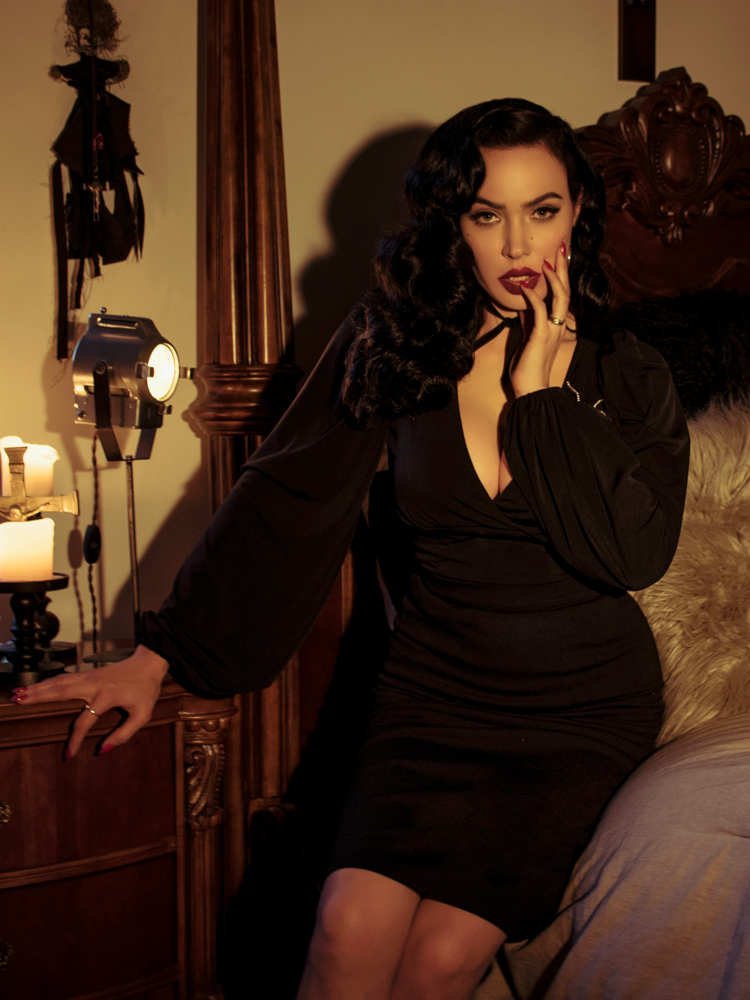 Bishop Blouse in Black
Bishop Blouse in Black | Gothic Style Fashion
$82.00
Goth Retro Clothing
We will restock soon. Please add your email to the waitlist for a notification.
This staple design was inspired by some of our favorite dark ladies. Inspired from 1930's fashions, this elegant balloon sleeved blouse will invoke old Hollywood glamour. The plunging neckline showcases the most feminine of elements from your neck, collar bones, and bust line. Made from the highest quality of ITY, the bodice is fully lined, features a full length sleeve and is long enough to wear with pants or tucked into your favorite high waisted items. Finished with a back zippered closure.
Made in Hollywood, CA.
Photography: Susie Q
Model: Micheline Pitt is 5'9" and wearing a size Medium, Linda is 5'3" and wearing a size Small.
Fit advice: If you're between sizes or want more bust coverage, order up. If you have additional fit questions, please email customer service at cs.lafemmeennoir@gmail.com.
XS:
Bust: 33"-35" (84 - 89 cm)
Waist: 24"-25.5" (61 - 65 cm)

S:
Bust: 35"-38" (89 cm - 96.5 cm)
Waist: 26"-27.5" (66 cm - 70 cm)

M:
Bust: 37"-40" (94 - 101.5)
Waist: 28"-29.5" (71 - 75 cm)

L:
Bust: 39"-42" (99 - 106.6 cm)
Waist: 30"-31.5" (76.2 - 80 cm)

XL:
Bust: 42"-45" (106.7-114 cm)
Waist: 33"-34.5" (83.8-87.6 cm)

2X:
Bust: 45"-48" ( 114.3 - 122 cm)
Waist: 36"-37.5" (91.5 - 95 cm)

3X:
Bust: 49"-52" ( 124.5 - 157.5 cm)
Waist: 40"-41.5" (101.6 - 105.4 cm)

4X:
Bust: 53"-56" (134.6 - 142.24 cm)
Waist: 44"-45.5" (111.8 - 115.6 cm)