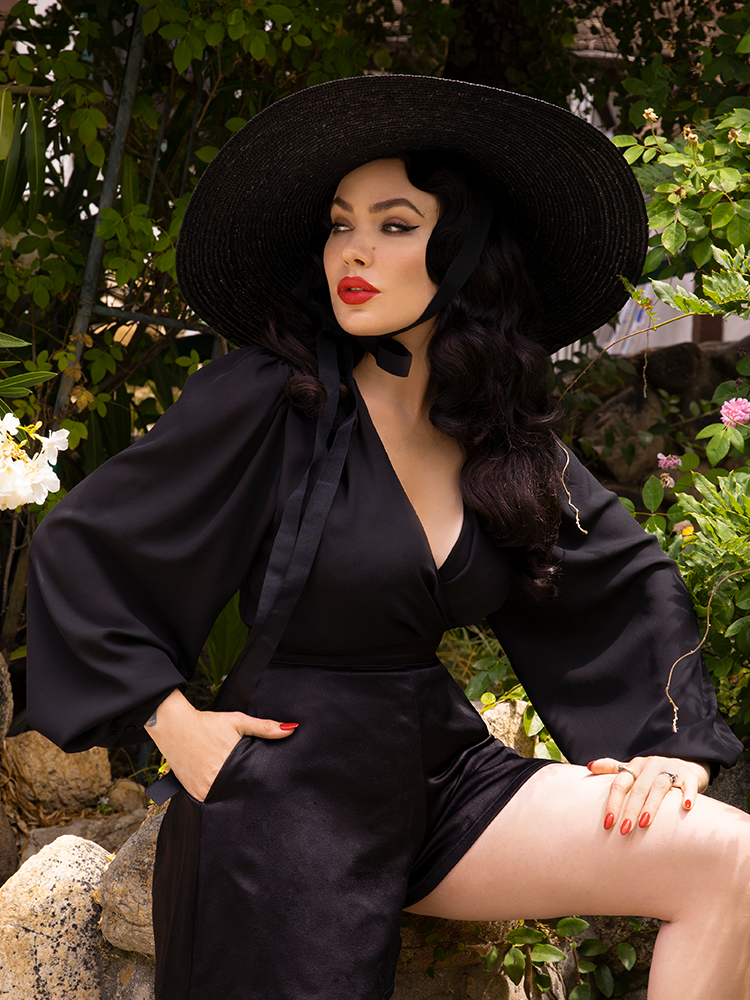 Georgette Wrap Top in Black
Georgette Wrap Top in Black | Goth Vintage Clothing
$98.00
Goth Style Top
Inspired by iconic 1930's bishop blouses, this extremely decadent wrap top will make a bold statement. Our solid black version of the Serpentine print wrap blouse comes with a removable sash to cinch your waist. Featuring dramatic gathered and cuffed sleeves, a side tie, covered buttons and a fully lined bodice. Tuck in or wear out for two distinctive looks. Perfect to pair with our new Metropolis suit jacket.
Made in Hollywood, CA.

Photography: Susie Q
Model: Rachel is 5'6" and wearing a size Medium, Micheline Pitt is 5'9" and wearing a size Small, Erika is wearing a size Medium.

Fit advice: Do not order down unless you are between sizes, if you prefer more bust coverage do not order down. If you have additional fit questions, please email customer service at cs.lafemmeennoir@gmail.com.

Bust: 33.5"-34.5" (85-87.5 cm)
Center back length from top neck to bottom of hem: 25" (63.5 cm)
Bust: 35.5"-37.5" (90-95 cm)
CB Length from top neck to bottom of hem: 25.5" (64.5 cm)
Bust: 37.5"-39.5" (95-100 cm)
CB Length from top neck to bottom of hem: 26" (68 cm)
Bust: 39.5"-40.5" (100-103 cm)
CB Length from top neck to bottom of hem: 26.5" (67 cm)
Bust: 42.5"-44.5" (108-113 cm)
CB Length from top neck to bottom of hem: 27" (68.5 cm)
Bust: 45.5"-47.5" (115.5-121 cm)
CB Length from top neck to bottom of hem: 27.5" (70 cm)
Bust: 49"-51.5" (124.5-131 cm)
CB Length from top neck to bottom of hem: 28" (71 cm)
Bust: 53"-55" (135-140 cm)
CB Length from top neck to bottom of hem: 28" (71 cm)