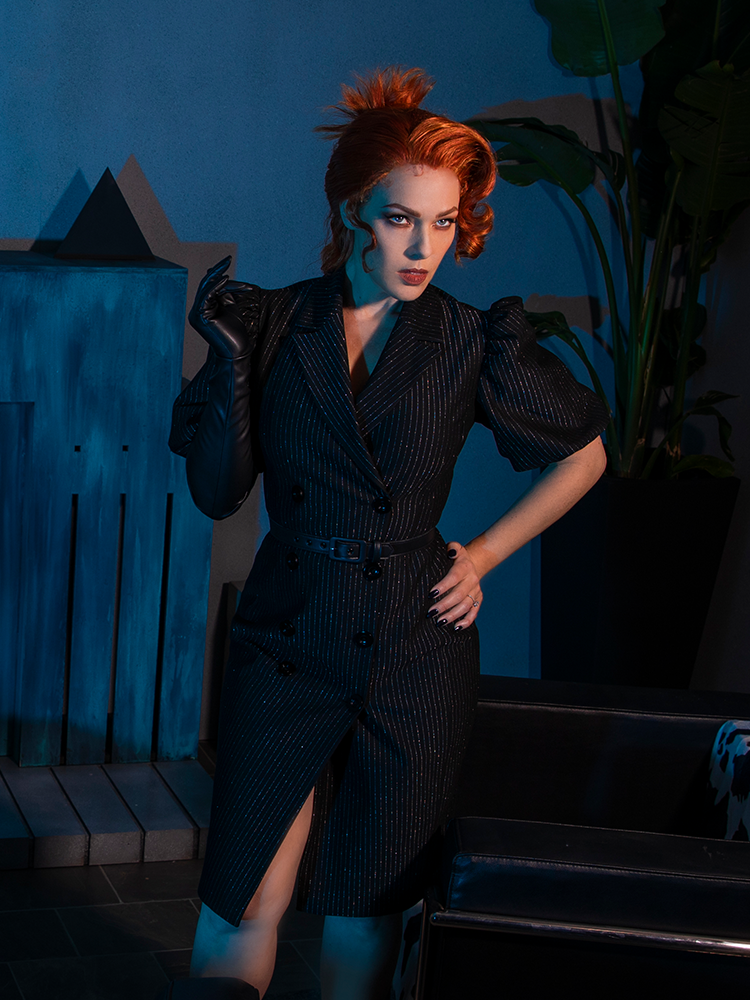 BEETLEJUICE™ Delia Dress
PRE-ORDER - BEETLEJUICE™ Delia Dress* | Gothic Clothing
$188.00
Gothic Style Dresses
PLEASE CHECK OUT THE REST OF THIS JOINT COLLECTION AT: 
"If you don't let me gut out this house...." The Pinstripe Delia dress features a dramatic puff sleeve, double-breasted front bodice with button closure all the way down, a wiggle skirt with a back slit, and finished with a black removable belt. Pair it with our avant-garde glove headband. Fit for any Delia-inspired fashionista!
Stretch Ponte Knit fabric with lurex pinstripes 68%Rayon 27% Nylon 5% Spandex
Designed by Lynh Haaga and Micheline Pitt and made in China.
Model Info:

 
Erin is 5'7 wearing a size small. Joshalyn is 5'8 wearing a size 2XL.
PRE ORDERS - We only ship complete orders. At this time we cannot split pre-orders due to our extensive pre-order storage system. If your order has in-stock and pre-ordered items, we will pull your in-stock item(s) and hold on to your order until it is fully complete and then ship it. Each pre-order item has an estimated shipping time frame listed. THIS IS ONLY AN ESTIMATE. We do everything in our power to deliver within that estimated window. However, because of unforeseen global shipping delays and material shortages due to the pandemic which is still affecting manufacturing, these items can still be delayed. We suggest purchasing in-stock and pre-order items separately to help mitigate your wait time for items.

If you have any further questions please contact us.