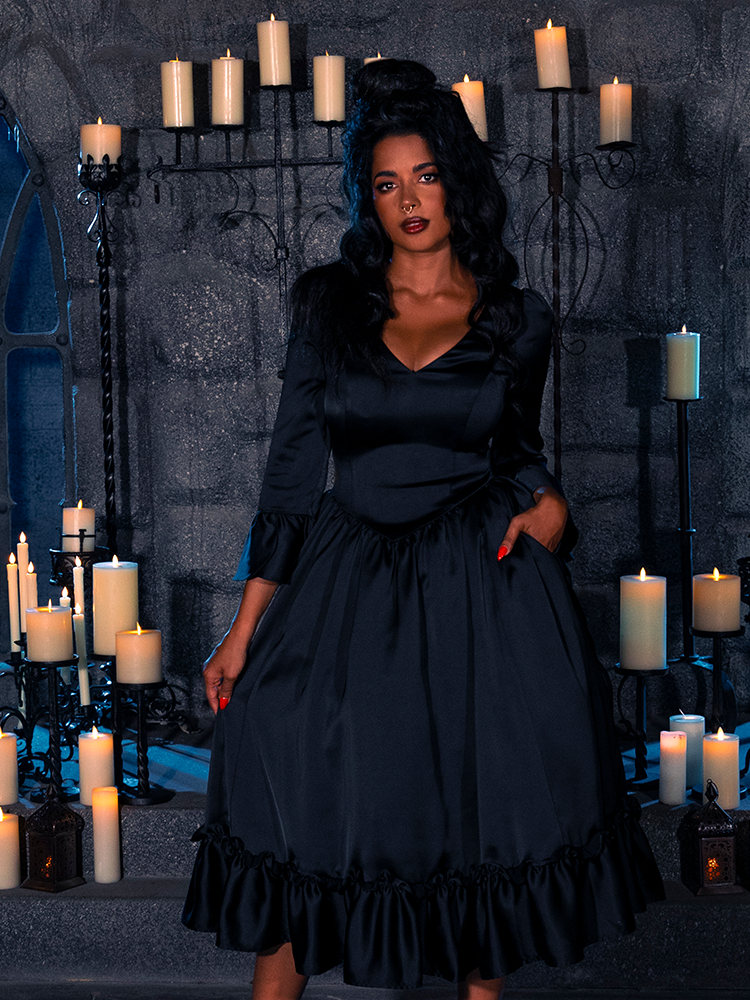 Dark Romance Satin Bustle Dress in Black
Dark Romance Satin Bustle Dress in Black | Gothic Style Dress
$248.00
Gothic Dresses
Our Dark Romance Satin Dress follows the same line as our Mina dress. It features an open V-neckline, edged with hand-tacked applique petals. The sleeves are ¾ length and have a shirred cap shoulder and they end in romantic open flounce cuffs. The beautifully contoured bodice is fitted with side boning. The Midi skirt is shirred with deep side pockets and there's a crinoline under-skirt and the piece lined in a ruffled flounce hem. Adding to the striking silhouette, we've added a softly puffed deep pleated back bustle to finish the look.
Fabric Content:
Shell: 98% Polyester, 2% Spandex
Lining: 95% Polyester, 5% Spandex
Tulle: 100% Polyester
Designed by Lynh Haaga and Micheline Pitt and made in China.
Photos by: Susie Q
Model info: Divya is wearing a small.
Fitting Advice: Go by your bust and waist
PRE ORDERS - We only ship complete orders. At this time we cannot split pre-orders due to our extensive pre-order storage system. If your order has in-stock and pre-ordered items, we will pull your in-stock item(s) and hold on to your order until it is fully complete and then ship it. Each pre-order item has an estimated shipping time frame listed. THIS IS ONLY AN ESTIMATE. We do everything in our power to deliver within that estimated window. However, because of unforeseen global shipping delays and material shortages due to the pandemic which is still affecting manufacturing, these items can still be delayed. We suggest purchasing in-stock and pre-order items separately to help mitigate your wait time for items.