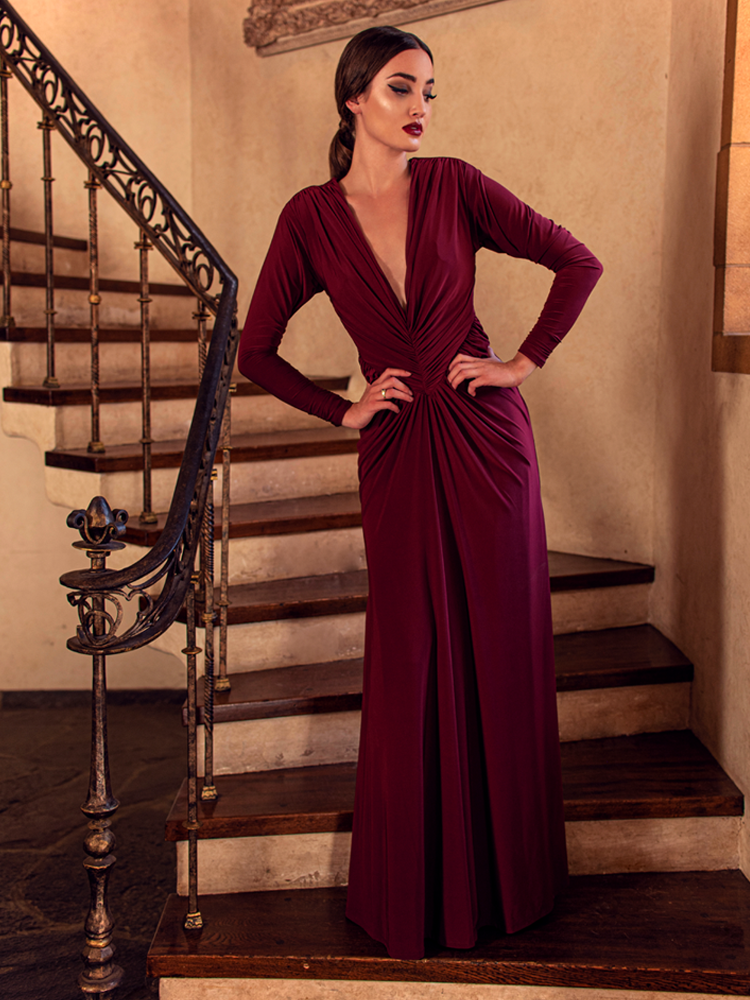 Art Deco Rusched Gown in Crimson
Art Deco Rusched Gown in Crimson | Gothic Style Dresses
$198.00
Gothic Dresses
Inspired by 1920's old Hollywood gowns with a little 1980's flair, we reimagined this style in a stretchy yet wearable soft buttery fabric. This elegant and extremely decadent piece is not for the faint of heart, with its sexy plunge neckline and structured shoulder pads. It has a slight dolman sleeve that has a soft elastic gathered detail, with the waist sheered to the heavens. This dress is a true statement piece. The bodice is lined in a firm ponte for support and shaping and the skirt is fully lined to hide undergarments. Made from 92% poly with 8% spandex and a nylon/rayon/spandex blend.
***The belt and turbanette NOT included***
Made in Hollywood, CA.
Photography: Susie Q
Model: Ashleeta is 5'6" and wearing a size Large, Aliza is 5'9" and wearing a size Small.
Fit advice: True to size. If you have additional fit questions, please email customer service at cs.lafemmeennoir@gmail.com.
XS:
Bust: 32"-34.5" (81-87 cm)
Waist: 24"-25.5" (61-64.5 cm)
Hips: Open
Center Back to Hem: 53.25" (134 cm)

S:
Bust: 35"-37.5" (89-95 cm)
Waist: 26"-27.5" (66-70 cm)
Hips: Open
Center Back to Hem: 54"

M:
Bust: 37"-39.5" (94-100 cm)
Waist: 28"-29.5" (71-75 cm)
Hips: Open
Center Back to Hem: 54.75" (139 cm)

L:
Bust: 39"-40.5" (99-103 cm)
Waist: 30"-32.5" (76-83 cm)
Hips: Open
Center Back to Hem: 56.25" (142.5 cm)
XL:
Bust: 42"-44.5" (107-113 cm)
Waist: 33"-34.5" (84-87 cm) 
Hips: Open
Center Back to Hem: 56.25" (142.5 cm)

2X:
Bust: 45"-47.5" (114-120 cm)
Waist: 36"-37.5" (84-87.5 cm)
Hips: Open
Center Back to Hem: 57" (144.5 cm)

3X:
Bust: 49"-51.5" (99-102.5 cm)
Waist: 40"-41.5" (101-105 cm)
Hips: Open
Center Back to Hem: 57.5" (146 cm)

4X:
Bust: 53"-55" (134-139 cm)
Waist: 44"-45" (109-114 cm)
Hips: Open
Center Back to Hem: 57.5" (146 cm)