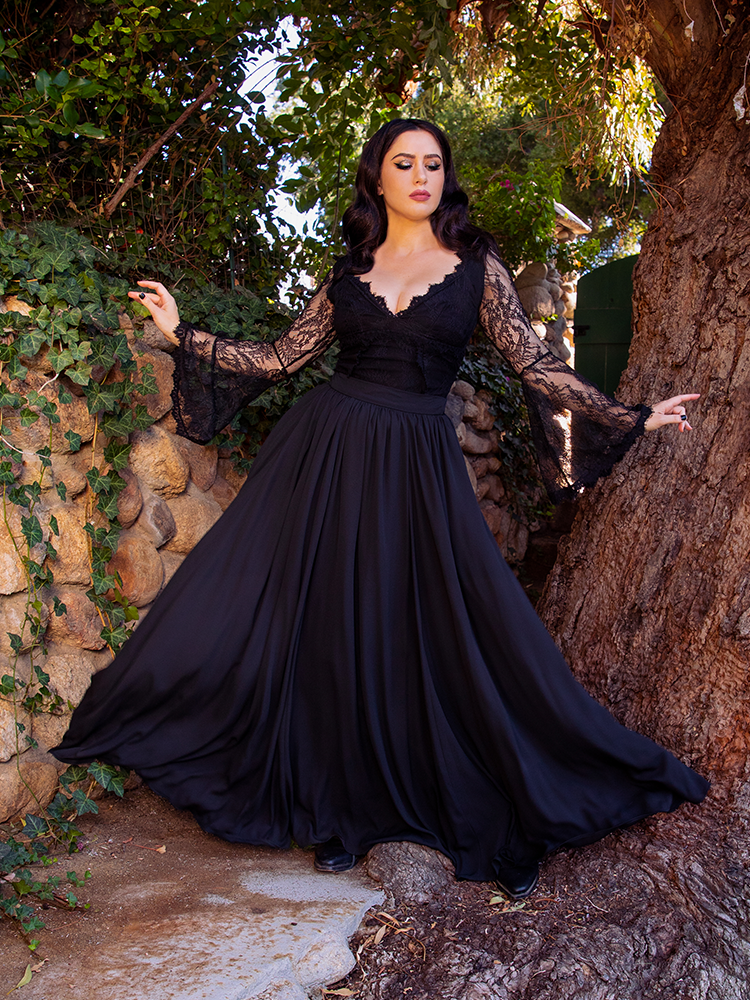 Mythical Maxi Skirt in Black Chiffon
Mythical Maxi Skirt in Black Chiffon| Goth Vintage Clothing
$102.00
Gothic Style Skirts
A part of our Cottage Witch collection, this Mythical Maxi skirt was born from our ever-popular Mythical Goddess Gown. With over 6  yards of luscious Georgette Chiffon, this sweeping beauty will flow and move with you on all your adventures. It features pockets and an elastic back waistband for an adjustable fit. The skirt with a center back YKK invisible zipper and deep side pockets. Produced in Georgette Chiffon and lined in ITY, Dry clean, hand washable cool water.
Imported. Made in China.
Photography: Susie Q.
Model: Ashley is wearing a size Small, Taylor is wearing a size 4X

Fit advice:
True to size. Skirt sits at true waist. Size up if you're in between sizes. 
If you have additional fit questions, please email customer service at 
cs.lafemmeennoir@gmail.com.
XS:
Waist: 24"-25.5" 
Length: 43.5" 
S:
Waist: 26"-27.5"
M:
Waist: 28"-29.5"  


L:
Waist: 30"-32" 

XL:
Waist: 33"-35" 


Length: 43.5" 

   

2X:
Waist: 36"-38.5" 


Length: 43.5" 

 

3X:
Waist: 39"-40.5"
4X:
Waist: 43"-44" 


Length: 43.5"