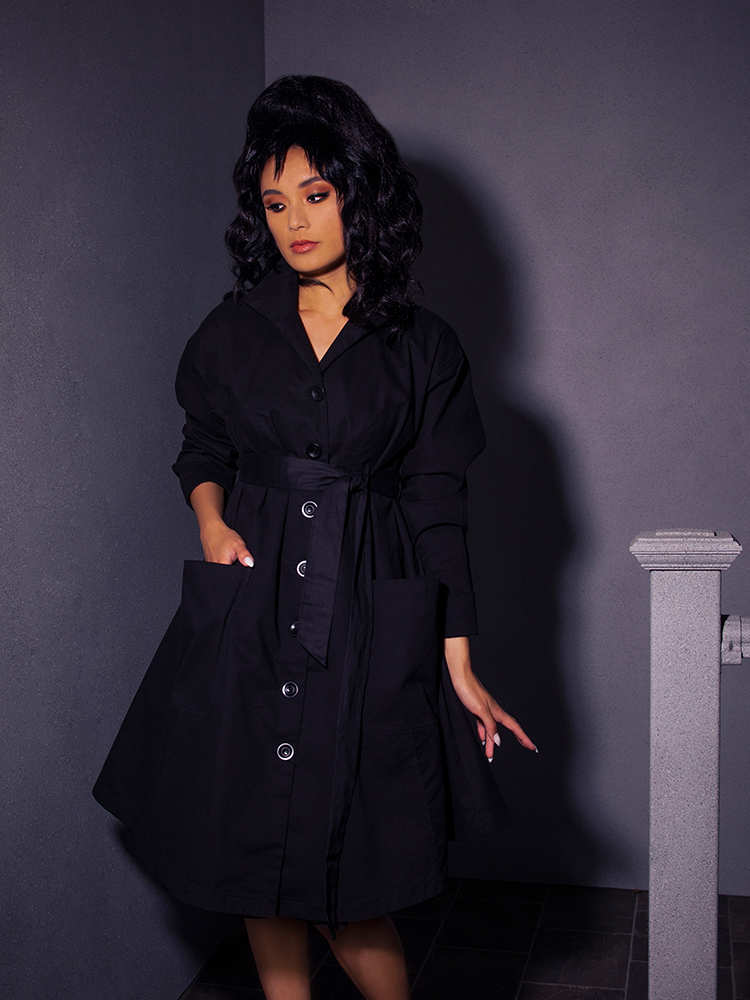 BEETLEJUICE™ Strange and Unusual Artist Smock Dress
PRE-ORDER - BEETLEJUICE™ Strange and Unusual Artist Smock Dress* | Goth Clothing
$168.00
Gothic Style Dress
PLEASE CHECK OUT THE REST OF THIS JOINT COLLECTION AT: 
 "I am alone. I am utterly alone…" Calling all melancholy artists! Our artist smock dress is based on the one that Lydia wears in the movie and is the perfect outfit to let your emo kid shine. Features deep wide set pockets and a 2-inch self sash belt. Can definitely be worn as a swing coat.
 Woven Twill 67% Cotton 30% Modal 3% Spandex
Designed by Lynh Haaga and Micheline Pitt and made in China.
Model Info:

 
Joshalyn is 5'8 and wearing a size XL/2XL. 
Kathy is 5'9 wearing a size S/M. Order down for a tighter fit.
PRE ORDERS - We only ship complete orders. At this time we cannot split pre-orders due to our extensive pre-order storage system. If your order has in-stock and pre-ordered items, we will pull your in-stock item(s) and hold on to your order until it is fully complete and then ship it. Each pre-order item has an estimated shipping time frame listed. THIS IS ONLY AN ESTIMATE. We do everything in our power to deliver within that estimated window. However, because of unforeseen global shipping delays and material shortages due to the pandemic which is still affecting manufacturing, these items can still be delayed. We suggest purchasing in-stock and pre-order items separately to help mitigate your wait time for items.
If you have any further questions please contact us.