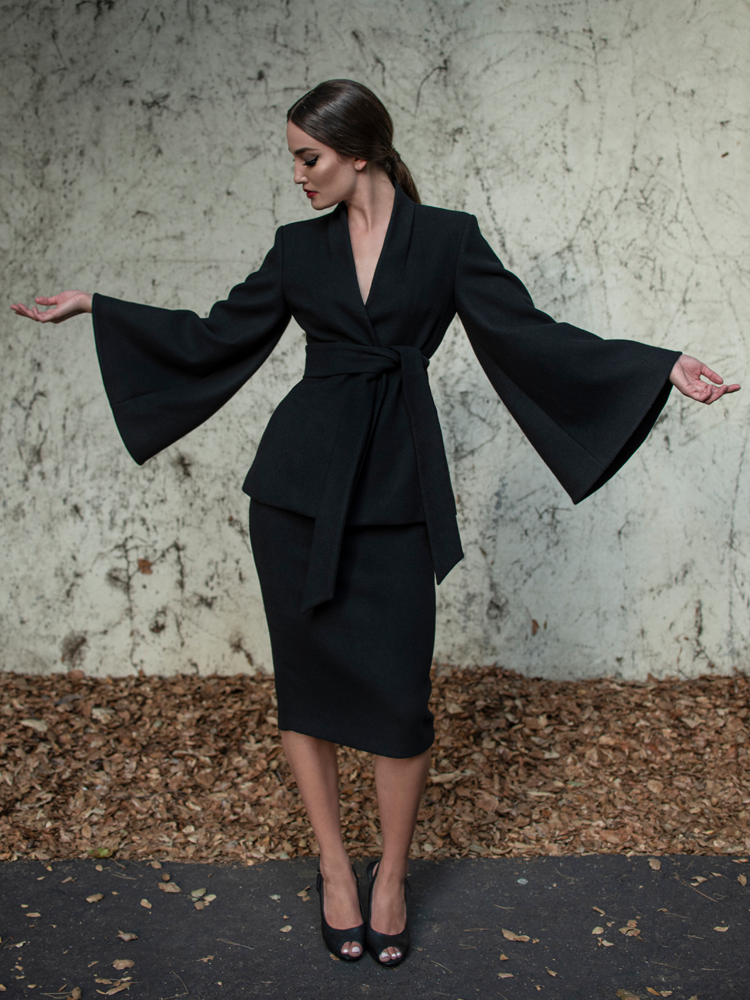 FINAL SALE - Metropolis Suit Skirt in Black
Metropolis Suit Skirt in Black | Gothic Clothing
$43.20 $108.00
Gothic Style Fashion
NON-DAMAGED
This piece has the same great design and fit as the popular Vixen pencil skirt but is now the sleek companion to the Metropolis jacket. This matching pencil skirt completes the look! The Metropolis skirt can be worn to work then out on the town paired with stilettos and a silky blouse. Finished with a back closure with YKK® zipper and hook and bar at waistband. The fabric is a poly blend "felt" with stretch satin charmeuse lining.

Imported. Made in China.
Photography: Lars Kommienezuspadt and Susie Q

Model: Aliza is 5'9" and wearing a size Small, Rachel is 5'6" and wearing a size Medium.
Fit advice: True to size. Skirt sits at true waist. If you have additional fit questions, please email customer service at cs.lafemmeennoir@gmail.com.
Waist: 24"-25" (61-63.5 CM) 
Hip: 35"-36.5" (89-93 CM)
Bottom Opening: 14.5" (37 CM)
Center Back Length: 28.25" (71.5 CM)
Waist: 25.5"-27.5" (65-70 CM) 
Hip: 37.5"-39" (95-99 CM)
Bottom Opening: 15.25" (39 CM)
Center Back Length: 28.75" (73 CM)
Waist: 28"-29.5" (71-75 CM) 
Hip: 39"-40.5" (99-103 CM)
Bottom Opening: 16.25" (41.5 CM)
Center Back Length: 29.5" (75 CM)
Waist: 30"-31.5" (71-75 CM) 
Hip: 41.5"-42.5" (105.5–108 CM)
Bottom Opening: 17.25" (44 CM)
Center Back Length: 30" (76 CM)
Waist: 33"-34.5" (84-87.5 CM) 
Hip: 44"-45.5" (112-116 CM)
Bottom Opening: 18.75" (47.5 CM)
Center Back Length: 30.5" (77.5 CM)
Waist: 36"-37.5" (91.5-95 CM) 
Hip: 47"-49" (119-125 CM)
Bottom Opening: 18.75" (47.5 CM)
Center Back Length: 31" (78 CM)
Waist: 40"-41" (101.5-104 CM) 
Hip: 51.5"-53.5" (-136 CM)
Bottom Opening: 22.25" (56.5 CM)
Center Back Length: 31" (78 CM)
Waist: 44"-45" (111.5-114 CM) 
Hip: 54.5"-56.5" (131-143.5 CM)
Bottom Opening: 24.25" (61.5 CM)
Center Back Length: 31" (78 CM)