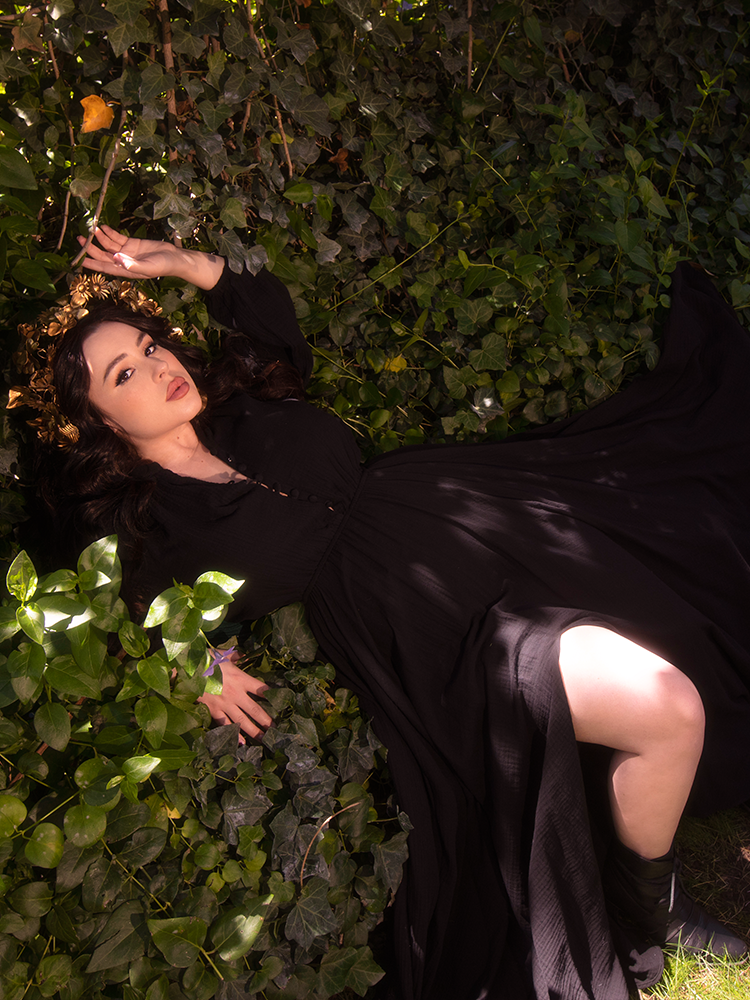 Coven Maxi Tunic Dress in Black
Coven Maxi Dress in Black
$188.00


Invoke magic with your coven in this luxurious gauze maxi tunic dress. Featuring a generous full-circle skirt with an elastic waist and a high front slit for a dramatic effect. The waist and sleeves have elastic shirring and the 3/4 length Dolman sleeves are voluminous. The front neckline has baby buttons and a loop closure. 
100% Cotton Double Bubble Gauze.
Designed by Lynh Haaga and Micheline Pitt and made in Los Angeles.
Photos by: Susie Q
Model Info: Rachel is wearing a Large. Taylor is wearing a 4XL.
PRE ORDERS - We only ship complete orders. At this time we cannot split pre-orders due to our extensive pre-order storage system. If your order has in-stock and pre-ordered items, we will pull your in-stock item(s) and hold on to your order until it is fully complete and then ship it. Each pre-order item has an estimated shipping time frame listed. THIS IS ONLY AN ESTIMATE. We do everything in our power to deliver within that estimated window. However, because of unforeseen global shipping delays and material shortages due to the pandemic which is still affecting manufacturing, these items can still be delayed. We suggest purchasing in-stock and pre-order items separately to help mitigate your wait time for items.