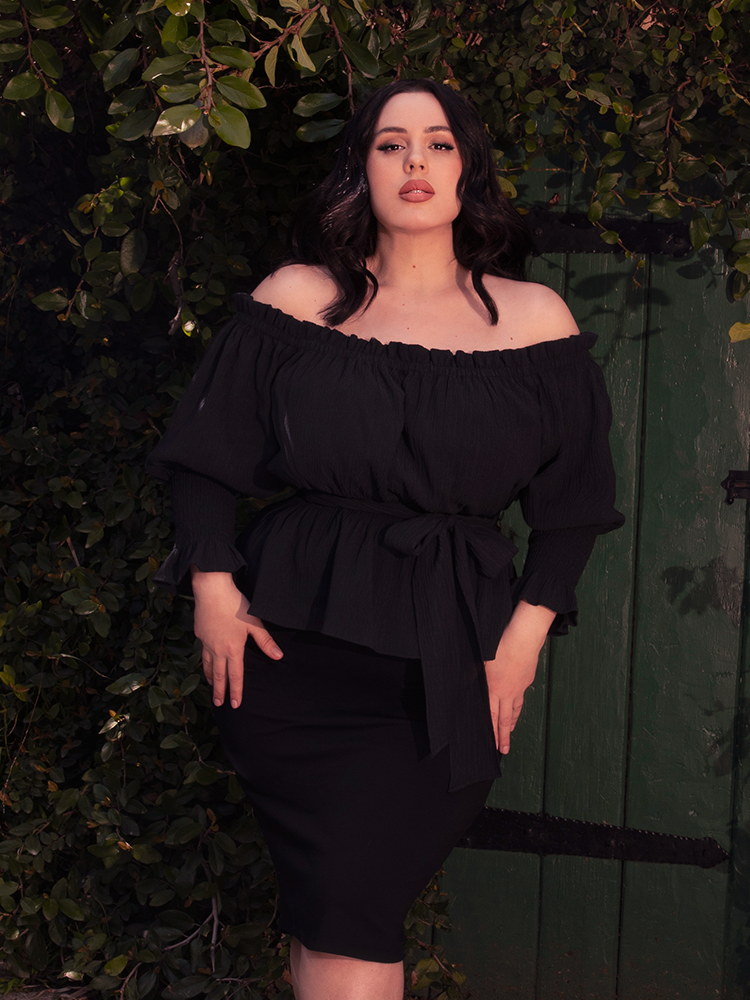 Ritual Peasant Top in Black
Ritual Peasant Top in Black
$98.00


Casual and effortless magical vibes are what this top is all about! Fashioned from lightweight, crinkled fabric, this top boasts neckline ruffles that can be styled either on or off the shoulder. Soft smocking on the waist and sleeve cuffs is complimented by a self-sash for a polished finish. The sleeves are 3/4 in length and ruffled at the hem. Comes with a self-sash to cinch the waist.
Textured Dobby 48% Polyester 37.8% Rayon 13.3% Nylon .9% Spandex
Bodice lined with soft 100% rayon.
Designed by Lynh Haaga and Micheline Pitt and made in China.
Photos by: Susie Q
Model Info: Rachel is wearing a Large. Taylor is wearing a 4XL.
PRE ORDERS - We only ship complete orders. At this time we cannot split pre-orders due to our extensive pre-order storage system. If your order has in-stock and pre-ordered items, we will pull your in-stock item(s) and hold on to your order until it is fully complete and then ship it. Each pre-order item has an estimated shipping time frame listed. THIS IS ONLY AN ESTIMATE. We do everything in our power to deliver within that estimated window. However, because of unforeseen global shipping delays and material shortages due to the pandemic which is still affecting manufacturing, these items can still be delayed. We suggest purchasing in-stock and pre-order items separately to help mitigate your wait time for items.