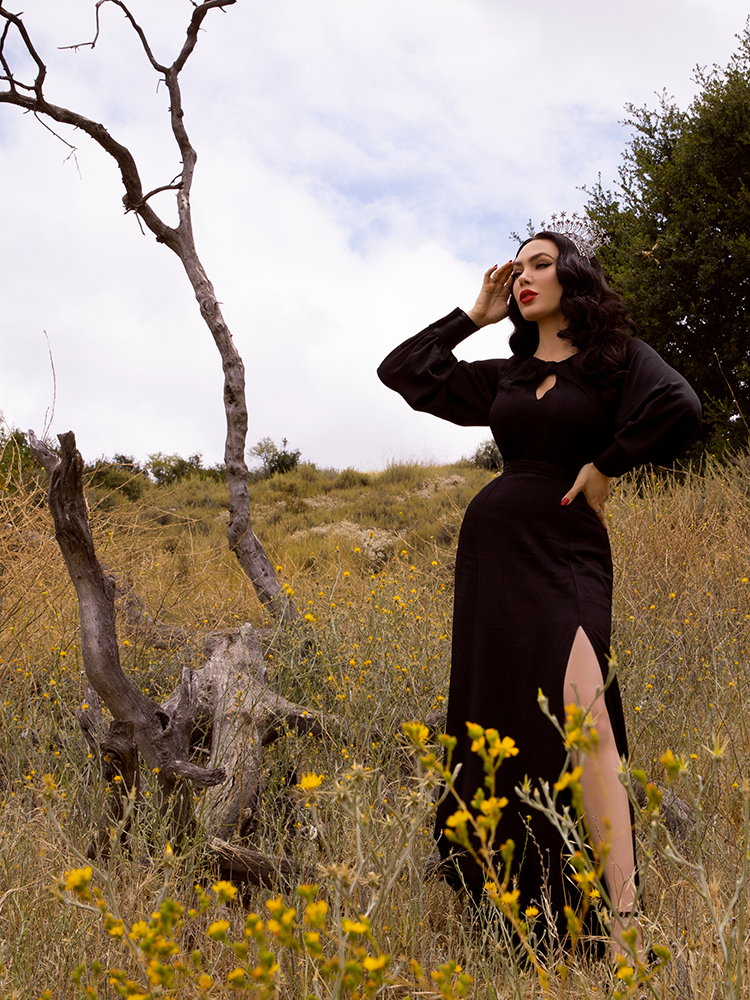 Opera Satin Gown in Black
The Opera Satin Gown in Black | Goth Dresses
$188.00
Gothic Style Dress
The Opera gown is a vintage-inspired floor-length gown that compliments the female form with sumptuous hammered crepe satin viscose. The neck sits slightly wider, the front set-in knot gathers the deep pleats, a plunging keyhole, and billowing shirred and cuffed sleeves. The center back has an invisible zipper. The waist is seamed with a tie sash. The skirt portion is a relaxed tulip shape that flows slightly flared to the hem. The front skirt slit makes for a grand entrance. The fabric is 57% rayon, 43% viscose with knit lining.
Made in USA of imported goods.
Photography: Susie Q

Model: Micheline Pitt is 5'9" and wearing a size Small.
Fit advice: Size down if between sizes as it's a relaxed fit. If you have additional fit questions, please email customer service at cs.lafemmeennoir@gmail.com.
XS:
Bust: 33.5"-34.5" (85 - 87.5 cm)
Waist: 24.5"-26" (62 - 66 cm)
Center Back Length: 57.75" (146.5 cm)
Hips: 35"-37" (89-94 cm)
Bodice Length from Knot to Waist Seam: 12.75" (32.4 cm)
Slit Length at Front Skirt: 31" (78.5 cm)
Back Neck Across: 10.125" (25.6 cm)
Sleeve Length from Neck: 27.5" (69.7 cm) 
S:
Bust: 35.5"-37.5" (90 - 95 cm)
Waist: 26.5"-28" (67.4 - 71 cm)
Center Back Length: 58.25" (148 cm)
Hips: 37"-39" (94 -99 cm)
Bodice Length from Knot to Waist Seam: 13" (33 cm)
Slit Length at Front Skirt: 31" (78.9 cm)
Back Neck Across: 10.25" (26 cm)
Sleeve Length from Neck: 28" (71 cm)
M:
Bust: 37.5"-39.5" (95.2 - 100 cm)
Waist: 28.5"-30" (72 - 76.2 cm)
Center Back Length: 58.75" (149 cm)
Hips: 39.5"-41" (100 - 104 cm)
Bodice Length from Knot to Waist Seam: 13.125" (33.3 cm)
Slit Length at Front Skirt: 31" (78.7 cm)
Back Neck Across: 10.3" (26 cm)
Sleeve Length from Neck: 28.5" (72.4 cm)
L:
Bust: 39.5"-41.5" (95.2 - 105.4 cm)
Waist: 30.5"-32" (77.5 - 81.3 cm)
Center Back Length: 59.25" (150.5 cm)
Hips: 41.5"-43" (105.4 - 109.2 cm)
Bodice Length from Knot to Waist Seam: 13.25" (33.7 cm)
Slit Length at Front Skirt: 31" (78.7 cm)
Back Neck Across: 10.5" (26.7 cm)
Sleeve Length from Neck: 29" (73.7 cm)
XL:
Bust: 42"-44.5" (106.7 - 113 cm)
Waist: 33"-34.5" (83.8 - 87.6 cm)
Center Back Length: 59.75" (151.765 cm)
Hips: 43.5"-45" (110.5 - 114.3 cm)
Bodice Length from Knot to Waist Seam: 13.625" (34.6 cm)
Slit Length at Front Skirt: 31" (78.7 cm)
Back Neck Across: 10.625" (27 cm)
Sleeve Length from Neck: 29.5" (75 cm)
2X:
Bust: 45"-47.5" (114.3 - 120.6 cm)
Waist: 36"-37.5" (91.4 - 95.25 cm)
Center Back Length: 60" (152.4 cm)
Hips: 46.5"-48" (118 - 122 cm)
Bodice Length from Knot to Waist Seam: 13.75" (35 cm)
Slit Length at Front Skirt: 31" (78.7 cm)
Back Neck Across: 10.75" (27.3 cm)
Sleeve Length from Neck: 30" (76.2 cm)
3X:
Bust: 49"-51" (125 - 129.5 cm)
Waist: 40"-41" (101.6 - 104 cm)
Center Back Length: 60.5" (153.7 cm)
Hips: 49.5"-51" (125.7 - 129.5 cm)
Bodice Length from Knot to Waist Seam: 13.9" (35.3 cm)
Slit Length at Front Skirt: 31" (78.7 cm)
Back Neck Across: 10.9" (27.7 cm)
Sleeve Length from Neck: 30.5" (77.5 cm)
4X:
Bust: 53"-55" (134.6 - 140 cm)
Waist: 44"-45" (11.8 - 114.3 cm)
Center Back Length: 61" (155 cm)
Hips: 54.5"-56" (138.4 - 142.2 cm)
Bodice Length from Knot to Waist Seam: 14.25" (36 cm)
Slit Length at Front Skirt: 31" (78.7 cm)
Back Neck Across: 11.2" (28.5 cm)
Sleeve Length from Neck: 31.2" (79.3 cm)