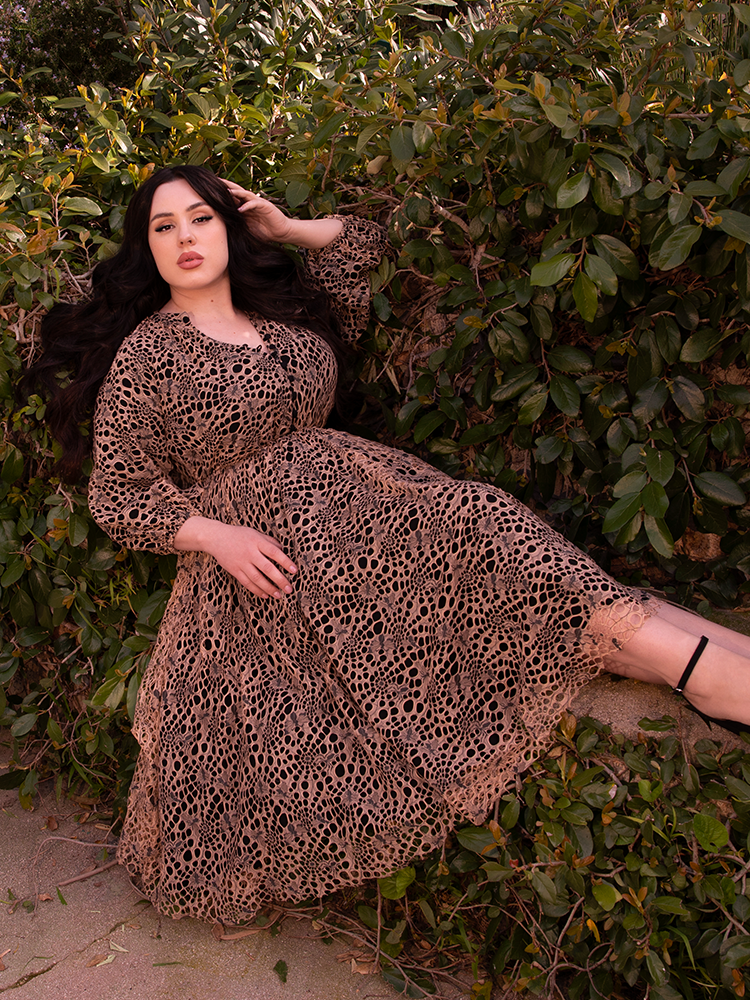 PRE-ORDER - Coven Midi Dress in Blush/Black Cobweb Lace
Coven Midi Dress in Black With Cobweb Lace
$198.00
ESTIMATED ARRIVAL WAS SEPTEMBER/NOW MID-OCTOBER
"Boil boil, toil and trouble..." Invoke magic with your coven in this luxurious and eye-catching midi tunic dress. Premium blush/black Turkish lace featuring a cobweb and spider pattern is the focal point of this remarkable dress. The Dolman sleeves are generously gathered with elastic at the sleeve hem and bracelet length. The shirred full-circle skirt has an elastic waist, deep side pockets, and a raw hem on the lace shell. The front neckline has demure black baby buttons & loops. 100% cotton bubble gauze is fully lined for stunning contrast. Includes a black sash belt to perfect the enchantress look.
Lace shell is 27% Polyester, 73% Nylon
Lining 100% Cotton
Designed by Lynh Haaga and Micheline Pitt and made in Los Angeles.
Photos by: Susie Q
Model Info: Rachel is wearing a Large. Taylor is wearing a 4XL.
PRE ORDERS - We only ship complete orders. At this time we cannot split pre-orders due to our extensive pre-order storage system. If your order has in-stock and pre-ordered items, we will pull your in-stock item(s) and hold on to your order until it is fully complete and then ship it. Each pre-order item has an estimated shipping time frame listed. THIS IS ONLY AN ESTIMATE. We do everything in our power to deliver within that estimated window. However, because of unforeseen global shipping delays and material shortages due to the pandemic which is still affecting manufacturing, these items can still be delayed. We suggest purchasing in-stock and pre-order items separately to help mitigate your wait time for items.