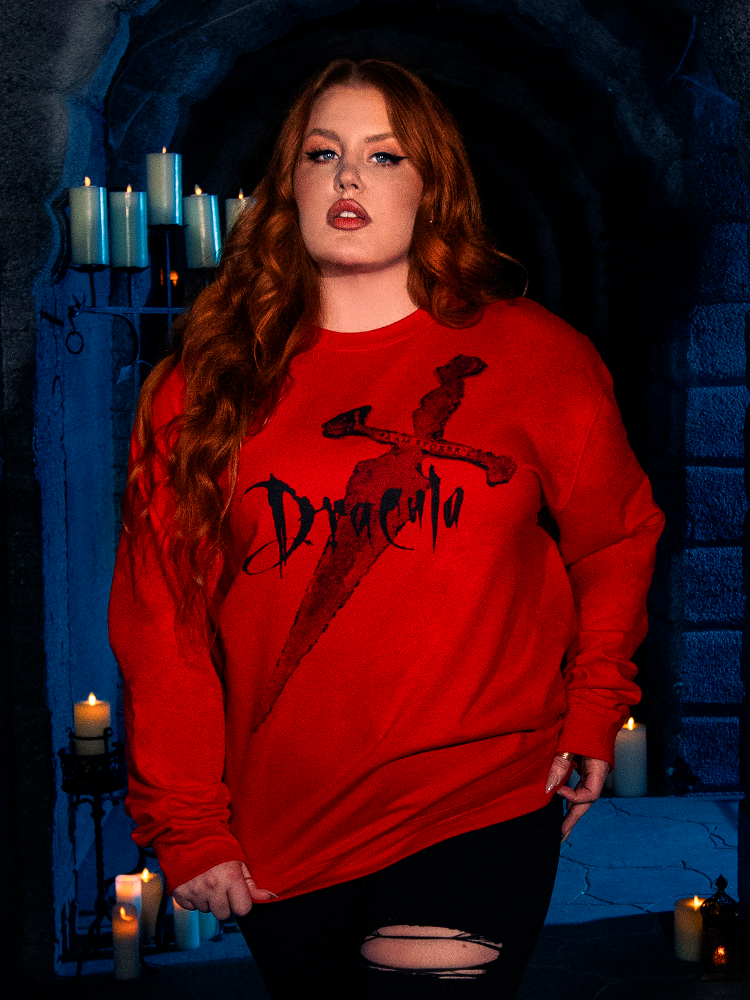 BRAM STOKER'S DRACULA "Love Never Dies" Sweatshirt in Red (unisex)
BRAM STOKER'S DRACULA "Love Never Dies" Sweatshirt in Red (Unisex)
$54.00
Gothic Inspired Clothing
"Love never dies..."
This plush red unisex sweatshirt features Dracula's symbolic sword that is carried into battle and then used to denounce his faith after discovering Elisabeta's death. The film logo is featured emblazoned on the front in black and on the back is written the film's signature quote, "Love never dies." 1 x 1 ribbing at collar, cuffs, and waistband.
 Fabric Content:

80% Cotton
20% Polyester

Designed by Lynh Haaga and Micheline Pitt and screen printed in Los Angeles of imported goods.

Photos by: Susie Q
Model info: Aura is wearing a 2xl. Chad is wearing a 2xl.
Fitting Advice: Unisex standard fit. Order down if you would like a more fitted look.
PRE ORDERS - We only ship complete orders. At this time we cannot split pre-orders due to our extensive pre-order storage system. If your order has in-stock and pre-ordered items, we will pull your in-stock item(s) and hold on to your order until it is fully complete and then ship it. Each pre-order item has an estimated shipping time frame listed. THIS IS ONLY AN ESTIMATE. We do everything in our power to deliver within that estimated window. However, because of unforeseen global shipping delays and material shortages due to the pandemic which is still affecting manufacturing, these items can still be delayed. We suggest purchasing in-stock and pre-order items separately to help mitigate your wait time for items.