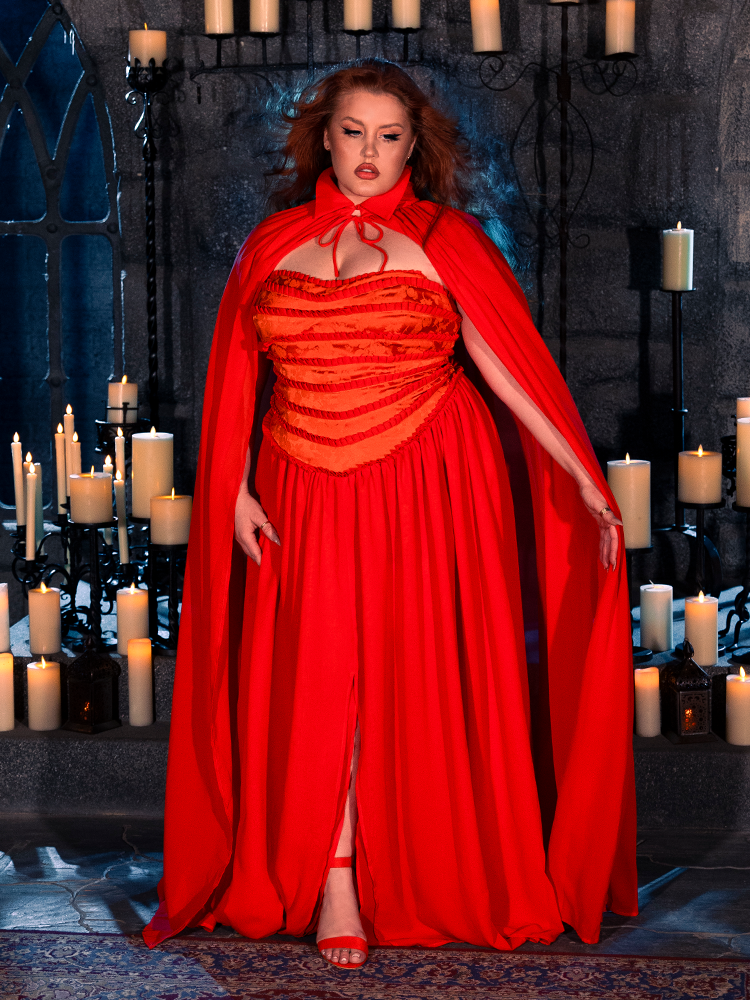 BRAM STOKER'S DRACULA Lucy Bustier Gown and Matching Cape in Fire Orange
BRAM STOKER'S DRACULA Lucy Bustier Dress and Cape in Fire Orange
$258.00
Gothic Style Clothing
" Leave these others and come to me. My arms are hungry for you, my darling..." 
This dress symbolized Lucy slowly turning into a vampire by signaling her transition from proper Victorian morality to a vamp. The rich orange hue is striking against the night scenes in the movie. The bustier of the dress is built from the ground up with cotton/spandex floral jacquard placed under strategic rows of pleated chiffon across the front and back of the bodice. Boning throughout holds the structure of the garment while a soft and flowy red-orange chiffon maxi skirt completes it.  The dress is topped off with a dramatic long and full sweep cape with collar and front spaghetti ties. 
Fabric Content:
Shell and trim: 100% Polyester
Bodice: 53% Cotton/44% Polyester/ 3% Spandex
Lining: 98% Polyester/2% Spandex
Designed by Lynh Haaga and Micheline Pitt and made in China.
Photos by: Susie Q
Model info: Aura is wearing a 2xl. 
Fitting Advice: True to size. Go off of your waist and bust measurements.
PRE ORDERS - We only ship complete orders. At this time we cannot split pre-orders due to our extensive pre-order storage system. If your order has in-stock and pre-ordered items, we will pull your in-stock item(s) and hold on to your order until it is fully complete and then ship it. Each pre-order item has an estimated shipping time frame listed. THIS IS ONLY AN ESTIMATE. We do everything in our power to deliver within that estimated window. However, because of unforeseen global shipping delays and material shortages due to the pandemic which is still affecting manufacturing, these items can still be delayed. We suggest purchasing in-stock and pre-order items separately to help mitigate your wait time for items.